Dr. Rex Grizzle
Dr. Rex Grizzle is recognized in San Diego County as a comprehensive implant, sedation, and cosmetic dentistry specialist.  He serves patients throughout San Diego and Imperial counties at his practice in Pine Valley.
Dr. Grizzle was born in Phoenix, Arizona, and was one of eleven children.  He graduated from Central Union High School in El Centro, California.  After High School graduation, Dr. Grizzle moved with his family to Utah.  In 1975, Dr. Grizzle was one of only five Utah residents awarded, a four-year dental school tuition scholarship by the state of Utah. After graduating Magna Cum Laude from the University of Utah in 1975, Dr. Grizzle attended the University of Southern California School of Dentistry. In May of 1980 he graduated in the top of his class and opened his General Dentistry office in Pine Valley in October of 1980.
Each year, Dr. Grizzle dedicates over 50 hours of his time to continuing education.  Dr. Grizzle has trained with some of the world's leading dental pioneers focusing on the art of veneer placement, dental implant restoration, anti-anxiety treatment, and full mouth rehabilitation.
Dr. Grizzle is affiliated with the following prestigious professional organizations:
Fellow, Academy of General Dentistry
Member, American Dental Association
Member, California Dental Association
Member, San Diego County Dental Society
Member, San Diego Mini-Residency Implant Group
Graduate of the Esthetic Professionals Advanced Fixed Prosthodontics Residency
Graduate of the Seattle Institute for Advanced Dental Education
Dr. Grizzle considers his wife, Nancy, to be the greatest blessing of his life.  He and Nancy have three daughters, one son and thirteen grandchildren.  Dr. Grizzle and Nancy enjoy spending time with their children and grandchildren, exercising, running at the beach, volunteering for their church, and spending as much time together as possible.
Dr. Grizzle is dedicated to his Pine Valley General Dentistry practice.  He has a wonderful staff that is committed to exceeding the expectations of their patients.  He enjoys the opportunity to meet and serve many wonderful residents of Pine Valley, Alpine, the surrounding communities, and those patients from areas in the San Diego and Imperial Counties.
Meet Our Team


The team members at the office of Rex Grizzle have been a part of our practice for many years, and we continue to grow! We get along very well, almost like family, so our patients feel very comfortable and welcome during their visit. We pride ourselves in providing dentistry in Pine Valley, California, that is more of a personal service than a doctor's appointment.
Katie Hayes
Office Manager
Katie Rajala has been employed by Dr. Grizzle for 5 years.  Over the years Katie has done everything from sterilizing instruments to managing the front office. Whatever your questions or concerns may be, Katie is here to ensure that all patients receive the best customer care; whether its helping them with finances, going over treatment, or simply putting a smile on their face. Katie enjoys building relationships with all her patients, and strives to provide the best experience possible for each patient!
During her free time, Katie loves having fun with both her husband and daughter. Her family activities include jeeping, hiking, camping, and trying new things.
Heather Valdez
Scheduling Coordinator
Heather Valdez joined Dr. Grizzle's team in 2016, after more than seven years in the event planning business. This experience has translated well to her current position, where she strives to put patient care above all else. Heather has enjoyed learning so many new things about dentistry. She strives to provide the best possible service to our patients, and make their experience a pleasant one from the very first phone call.
Heather spends her free time with her husband or at the movies, continuing her seven-year tradition of seeing a movie every Friday. She loves to cook, experiment with new foods, and stay active by working out or going for a run with her husband.
Michelle Butts
RDA
Michelle Butts graduated with honors from Apollo College Dental Assisting School in Spokane, Washington, in 2005. She continues to expand her knowledge in the dental field by completing education courses. She is committed to providing superior clinical support and a comfortable patient experience. She amazes our patients with the natural-appearing temporaries that she fabricates!
Outside the office, Michelle enjoys hiking and camping with her family and supporting her children in various athletic and scholastic activities. She loves horses and horseback riding when time permits.
Kyla Lennox
RDA
Kyla Lennox takes pride in providing quality patient care. Kyla worked in the medical field for six years prior to graduating with high honors from New Bridge College Dental assisting program in 2010. She enjoys continuing her education and expanding her knowledge in the dental field. You will find Kyla
chairside assisting Dr. Grizzle. Kyla is committed to providing every patient with a positive and comfortable experience.
When not at work, Kyla enjoys spending quality time outdoors with her family, at the beach, playing in the snow at Cuyamaca, riding quads and camping in the desert. She even enjoys an occasional family basketball game. Kyla enjoys supporting her children in their academics and year-round sports. Kyla is an avid scrap-booker and you can always find her photographing her family and friends.
Hedi Wright
RDH
Hedi Wright is a Registered Dental Hygienist who was born and raised in San Diego. Hedi earned an Associate's Degree in Math and Science from Grossmont College. Afterward, she continued her education and graduated at the top of her class as a Dental Hygienist from San Joaquin Valley College. Hedi enjoys working closely with our wonderful staff to help our patients achieve improved oral health through outstanding dentistry. Hedi loves her chosen profession because she can contribute to her patients' overall health and well-being. She has a gentle touch, and works hard to educate patients about their oral health.
During her free time, Hedi enjoys spending time with family and friends.
Judi Richardson
RDH
Judi Richardson has been a registered dental hygienist for over 45 years. She received her BS in dental hygiene from Loma Linda University. Judi began working for Dr. Grizzle in 1986. She is very personable, and enjoys empowering each individual patient with the skills necessary to maintain excellent teeth and gum health.
Outside of the office, Judi enjoys traveling the world (literally), hiking and climbing Sierra peaks, jogging, and spending time with friends and family.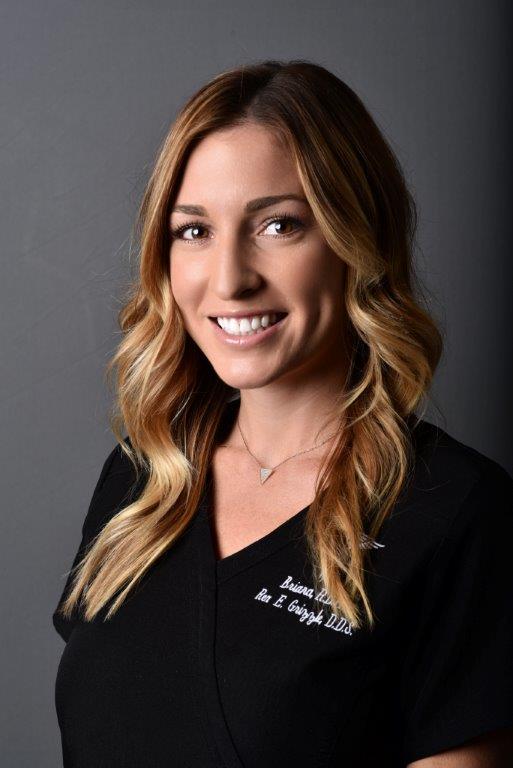 Briana Coombs
RDH
Briana Coombs is a Registered Dental Hygienist and has been in the dental profession for more than six years. She received her degree from Southwestern College in National City, where she graduated at the top of her class. While in school, Briana received a prestigious award for special interest and proficiency in Periodontics and was also inducted into the Sigma Phi Alpha Dental Hygiene Honor Society. Briana's love of dental hygiene fuels her desire to provide an important service to our patients.  She enjoys the opportunity to help our patients understand why complete oral care is so beneficial to their overall health.
During her free time Briana enjoys spending time with her daughters and husband.  She enjoys cooking, traveling, and exploring all San Diego has to offer.
Ashley Nichols
RDH
Ashley Nichols is a Registered Dental Hygienist who was born and raised in sunny San Diego. She graduated from San Diego State University with a Bachelor's in Science. She furthered her education at Southwestern College and received a degree in Dental Hygiene. She enjoys learning what's new in the dental hygiene field, loves teaching oral home care to help people create a healthy smile, and has the ability to put patients at ease while in the chair.
In her spare time, Ashley takes joy in spending time with her family and friends.